Throughout the year 2022 Bruno is regularly introducing us to his new songs!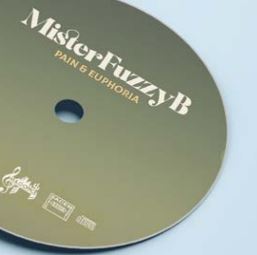 ALBUM PAIN & EUPHORIA
Sorti en octobre 2021, il s'agit de son deuxième album.
ALBUM PAIN & EUPHORIA
Sorti en octobre 2021, il s'agit de son deuxième album.
Bruno Dumarais, alias « MisterFuzzyB » is an artist who doesn't like to be told what to do.
After more than 1000 concerts and 10 years with the bands « They're Red Hot » (a cover band for The Red Hot Chilli Peppers) and with the same artists "Femme Fatale" (a creative band of original music), and a cult album with "FF" in 2010, Bruno got tired of the endless tensions of a life on the road and decided to drop everything in order to totally
concentrate on a solo career, taking over the vocals and all the insruments himself. He became frustrated and disappointed by his experiences in recording studios through disagreements between himself and the sound engineers. He therefore created his own studio and records, mixes and masters his own music.
His work personified under the pseudonym "MisterFuzzyB" was born in 2018 with a first album "Chapter One" signed with the digital label XploseMusic.
The album was well received with, notably, a concert in Paris's legendary La Dame de Canton (restaurant, bar and band venue on the Quai de la Seine …on the river in the center of Paris) where artists like Noir Désir, Matthieu Chedid and many others began there careers.
Bruno navigated around a few different musical universes. After "Chapter One"
which mixes elements of Dark Rock with a heavy baritone guitar and elements of
Funk, Bruno has changed his style with his second album "Pain and Euphoria". This
time, he has gone for a Power Pop Rock sound with M&O Music Label. There are
also Hard Rock tracks and the texts are autobiographical : This album is very
personal with the list of songs of life stories in chronological order. Bruno feels
the need to write only from his personal experiences.
For fans of Power Pop Rock with heavy guitars discover the album "Pain and Euphoria"
by the multi-instrumentalist "MisterFuzzyB".